GIN TONIC COLD BREW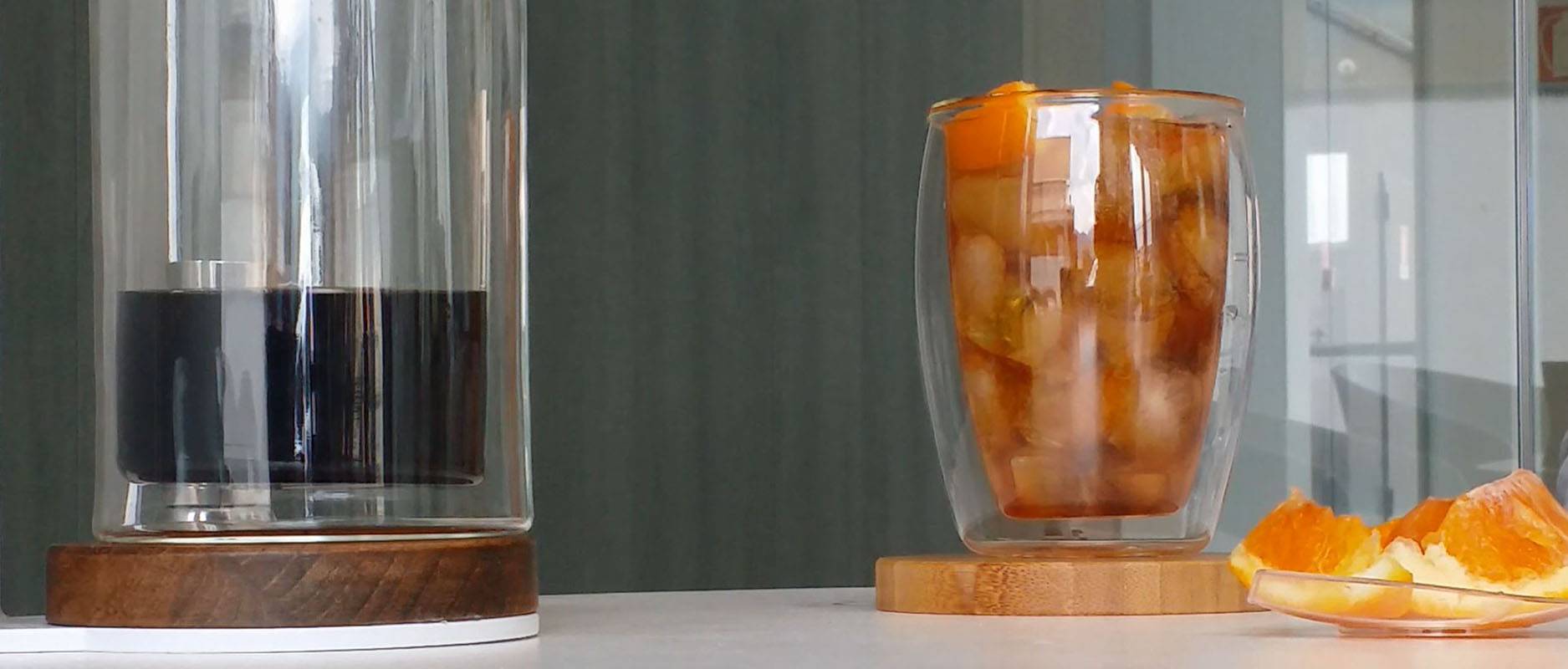 Today all over the world celabrates the #WorldGinDay and we show you how to prepare a good Gin Tonic Cold Brew.
This event is a global celebration of all things gin, organised each second Saturday in June. All gin lovers can get together all around the world  to drink some gin, whether it's in a cocktail, G&T or neat, and to shape their recipes together.
Lots of event are organised in London and in the UK, you check out a special map to see what's going on near you. Anyway you can get involved with World Gin Day 2016 by joining to us to enjoy together a #GinTonicColdBrew.
In fact, this year Essense celebrates World Gin Day with a refreshing recipes with Cold Brew Coffee. Discover how to make the Essense Gin Tonic Cold Brew…
To make this cocktail we choose the strong notes of TANZANIA Kilimanjaro roasted by Giuliano Caffè and carefully ground and dosed in GROUNDtoENJOY for Cold Brew: use 1 sachet with 450 ml of water.
GIN TONIC COLD BREW RECIPE
Preparation Time: 5′
Difficulty: low
Ingredients:
ice cubes
1 part gin
1 part TANZANIA Kilimanjaro cold brew coffee
2 parts tonic water
PREPARATION
Make a Cold Brew Coffee (add sugar if you like), place ice cubes in a glass, measure out 1 part gin then pour it. Measure out 1 part cold brew coffee and pour it. Measure out 2 parts tonic water and pour it. Add 2-3 orange slices.
Enjoy it!
CURIOSITY FROM THE BE A TASTER COMMUNITY
If you want to prepare gin your self, you can follow the advice of Federico, our italian Taster.
"I woke up one day and wanted to drink a gin & tonic so badly. Nothing strange in wanting some gin at 7am, all of a sudden I had an idea: I will craft my own gin! Just after typing "DIY GIN" on google I had the answer I was looking for: gin can be crafted at home and I was about to do it! Actually, the idea behind it is very easy, use a good vodka and infuse it with juniper and other botanicals. The Grey Goose magnum into the liquor cabinet was all I needed and it was asking for juniper!! After a quick stop at the herbalist's, I was ready to go: 30 grams of juniper, few spoons of coriander, angelica and the 3 basics are there. I added a spring of flowering lavender, one of rosemary, a bit of natural lemon zest, a spoon of fennel, fresh oregano, one cinnamon stick. One of the best French vodkas was about to become a gin. After just 48 hours, the smell of my magic potion was just FAN TAS TIC! The rosemary, inspired by Gin Mare, give some fresh and Mediterranean notes, but it's clearly the juniper that makes all the magic. First tasting turned out into 3 large glasses of gin & tonic…. I may have been influenced but it was the best g&t I have ever had! Just after that, I reminded the Essence video about cold brew gin tonic: amazing, it immediately became my summer drink. Coffee meets tonic so much better than I could imagine, I'm wondering why I never discover that before! I can't wait to make a new batch of gin trying different spices and botanicals, it's so easy to do than you should try!"