CHEMEX COFFEE MAKER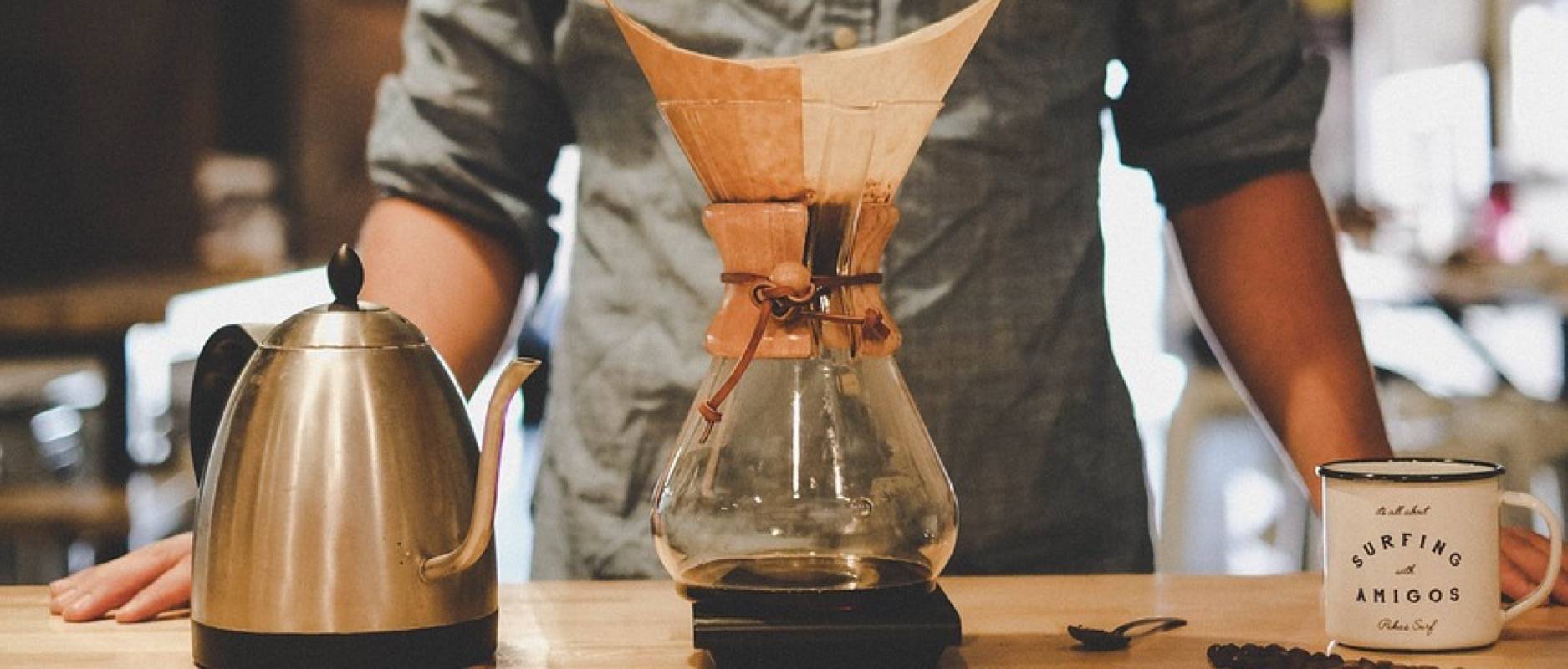 Want to know more about the Chemex Coffee maker and how to use it? Then read on fellow Coffee lover!
In this Chemex Coffee maker you will find the following content, in case you wish to skip to a particular topic:
History
The Chemex Coffee Maker is a pour-over style coffee-maker invented by the German chemist Dr. Peter Schlumbohm, who was said to be an "eccentric genius" by those who knew him. He actually registered over 300 patents throughout his career, from cocktail shakers to automobiles, and The Chemex being his most famous invention. Who would have told that this peculiar coffee maker would become his signature invention?
Dr Schlumbohm being a chemist, started studying so that he could perfectly understand the chemistry behind the extraction of the coffee beans flavor, aroma, and caffeine. And so, he set out to create a simple method to brew the perfect cup of coffee and at the same time, he aimed to create a beautiful vessel, thus creating this stunning Coffee maker.

The Chemex was invented in 1941 and would become an iconic part of American history, appearing on many films and TV series such as Mad Men, Interstellar, Sabrina, and a James Bond movie just to name a few.
As of this day, the Chemex is still being manufactured by the Chemex Corporation in Massachusetts.
Design
Its beautiful design resembles an hourglass with a conical funnel-like neck. It utilizes bonded paper for filters that usually are thicker than the standard paper filters used on other coffee makers. These peculiar filters assist in removing more cafestol than the other filters, which is a cholesterol-elevating compound that is found in coffee.
One of its most distinctive characteristics is the heatproof wooden-made collar, which serves the purpose to avoid burns and be easily handled when the vessel is filled with hot coffee.
Its design was so revolutionary for the post-war design standards that it became increasingly popular, being declared "one of the best-designed products of modern times" by many expert designers.
The Chemex design is so beautiful that many art museums feature it in their collections, such as the MOMA in New York, The Corning Museum of Glass, The Brooklyn Museum, etc…
How to Brew
What's needed:
Chemex Coffee Maker
Chemex filters
Kettle
Grinder
Digital scale
Timer (3-4 minutes)
The recommended grind to fully extract the flavors and aromas of the coffee with the Chemex is a medium coarse grind.

You can check out our step by step Brewing Guide for more detailed info.
Do you have any questions or doubts? please do let us know in the comments, we will be glad to respond!